Soda Canyon Ranch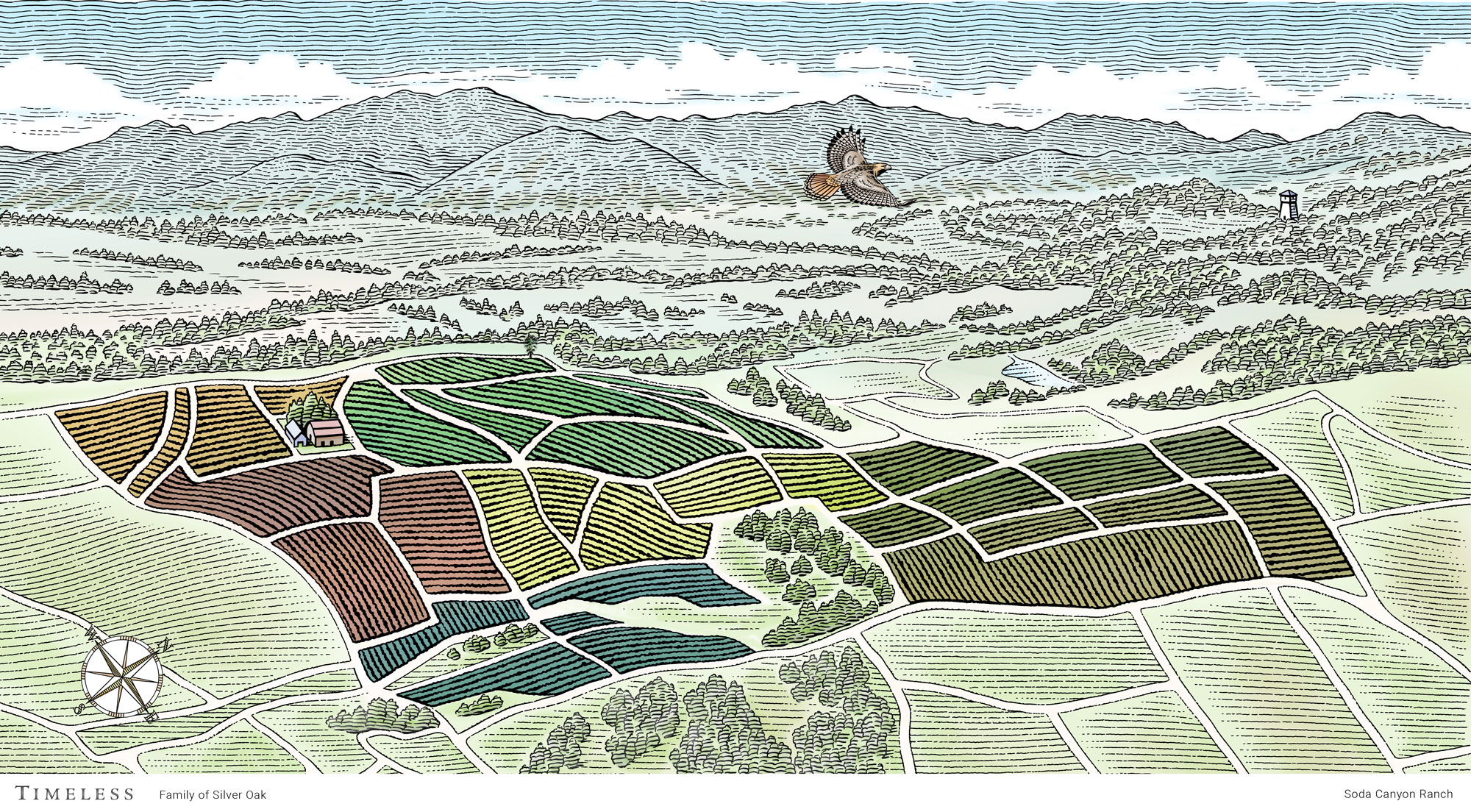 Six Vineyards in One
When the founding fathers of the Napa Valley carved out new sub-AVAs (American Viticultural Areas) in the 1980s, Soda Canyon Ranch was not yet on anyone's map. The vineyard is neighbored to the northwest and west by the winegrowing districts of Stags Leap District and Oak Knoll District, respectively, which were among the early pioneers of California Cabernet Sauvignon to attain global fame. To the northeast and southeast—and further off the beaten path—were Atlas Peak and Coombsville, thought to be the next frontiers for the emerging wine-producing region.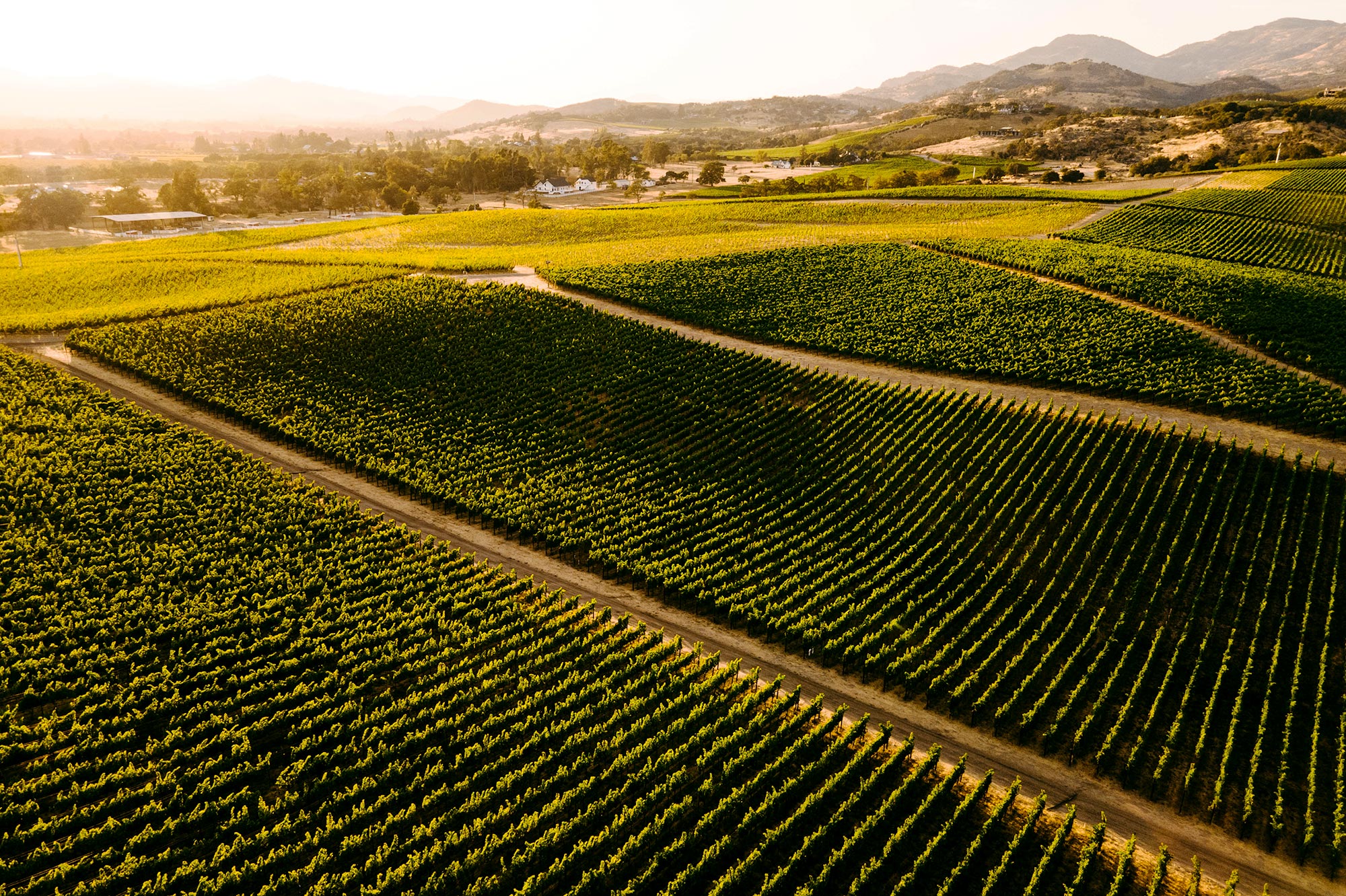 Owing to a rich diversity of microclimates and soil compositions, these AVAs have since cemented their credentials for producing world-renowned wines, across vintages and decades.
Since 1999, Soda Canyon Ranch has formed the backbone of Silver Oak Napa Valley Cabernet Sauvignon. Over that time, through emerging technologies, collaborations with industry luminaries and even the occasional stroke of luck, we now farm Soda Canyon Ranch as six unique and expressive micro-vineyards spanning 113 acres. These micro-vineyards are a veritable spice kit to winemaker Nate Weis, who is challenged each vintage with making the most distinct red wine expression from these core components.
Take a closer look at Soda Canyon Ranch through these stunning visuals.
The Peak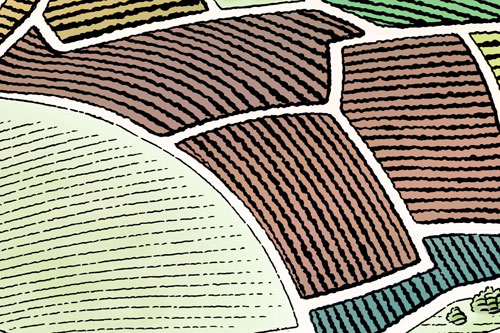 The highest point on the ranch, The Peak falls off in all directions with differing geological and environmental aspects. Although mostly planted to Merlot, there is also a 5-acre Cabernet Sauvignon block which has been our most interesting classroom. This block is further sub-divided into four zones, including the "salad bowl," an area with varied exposures, soils and elevations. Here, we find higher-toned, more stated Napa Valley Merlot grapes.
The Evening Slopes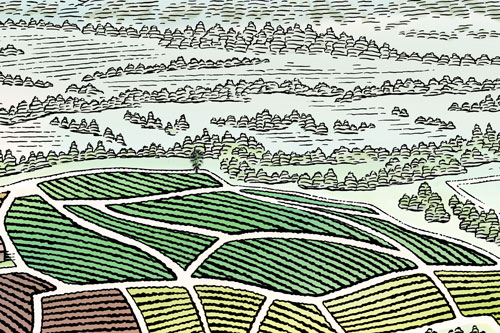 We recently replanted this west-facing area of rolling benchland topography and see it as the future. Volcanic and fertile soils are planted to Cabernet Sauvignon and Petit Verdot.
Rocky Blocks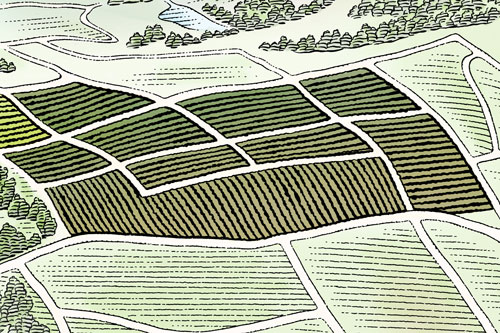 The rockiest, shallowest soils on the property produce extremely low yields and are challenging with regard to vigor. That's OK with us, as this area produces small, concentrated Cabernet berries. These grapes ripen earliest of anywhere in the vineyard, and our biggest challenge is taming their tannic structure.
The hard-charging and competitive Cabernet Sauvignon thrives in these rugged, rocky and thinner soils with the southern exposure at the northern end of the vineyard. Those conditions provide us the opportunity to control precisely the amount of water available to the plants, to tame its propensity for structured tannins worthy of its "sauvage" moniker and to coax out the variety's characteristic black fruit and cassis character.
Transition Zone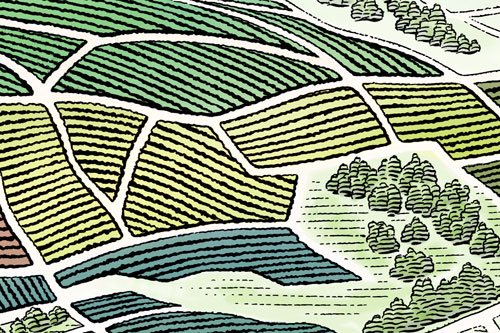 Mostly east facing and planted to a combination of Cabernet Sauvignon, Cabernet Franc and Merlot, this is our "Goldilocks" area—not too heavy with water holding capacity, not too rocky or shallow and perfect afternoon sun exposure.
These well-draining soils provide TLC for Cabernet Franc and the more sensitive and vulnerable Merlot. In terms of irrigation and fermentation, this soil allows Cabernet Franc to thrive with wonderful floral and tobacco aromatic expression, providing nuance and interest to the nose on the blending bench.
Little Pomerol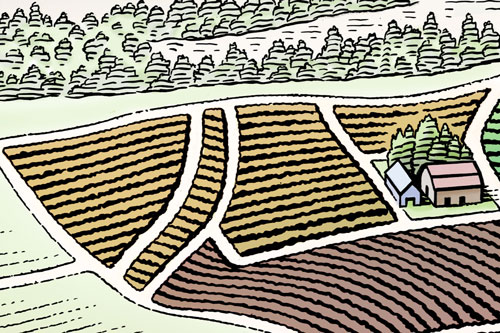 Our favorite Merlot blocks. Much like the great wines of Pomerol, here, clay soils have a high capacity for holding water and these blocks are among the coldest areas on the property. Merlot prefers to be babied a bit and performs best in these cooler, deeper soils at the southern end of the ranch. A mild "lukewarm soak" in the winery and cooler fermentation temperature help draw out the bright, vibrant fruit and fleshier texture that it can offer to a blended wine.
Hardpan Alley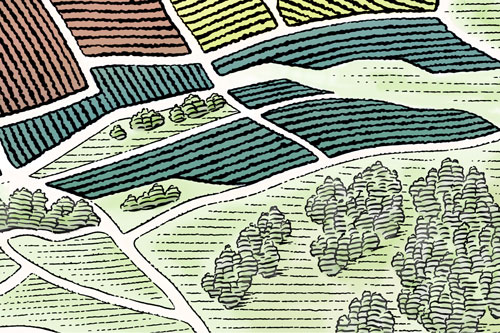 This block draws its name from the hardpan Tufa bedrock below its already shallow and compressed soils, making it incredibly challenging to farm. This lack of room keeps the planted Petit Verdot vines small—a significant achievement with a variety that loves to grow a strong and vibrant canopy.
Small but powerful, Petit Verdot is used sparingly to provide structure; deep, rich color; and a wild and almost unrecognizable aromatic character of fresh rhubarb. It isn't the prettiest on the vine, but is downright delicious in the glass. In the winery, Petit Verdot is often co-fermented with the other varieties grown at Soda Canyon to help moderate its distinct and dominating aromatic and textural markers.
An error occurred, please try again. You may already be subscribed to the Timeless email list.